Data from Foxtrot to the cloud, from the cloud to Excel
In the article Connect your Foxtrots to the Microsoft Azure cloud, we have introduced a novelty - a function block that will ensure the smooth writing of any data from Foxtrot to the Microsoft Azure cloud - by the Storage Tables service. This block will also cope with a temporary communication failure. The data stored in this way are now available to users using the Teco Excel Client plugin for online processing in the popular Microsoft Excel spreadsheet. This extension allows both reading and writing data back to the cloud. This completes the chain of maximally simplified two-way online data flow between Foxtrot and one of the most widely used tools for intuitive and user-configurable data processing.
The plugin provides the following functions:
Loading data from the cloud to Excel

periodically, with the possibility to enter how many last table entries will be read, the period can be set,

on request,

Write data from Excel to a table in the cloud and vice versa to pass data or a command to Foxtrot.

Save data loaded into Excel to a file in .xslx format (2010 and higher) and also in .csv

Possibility of saving once set parameters in named profiles, which can not only be restored by loading, but also transferred to another computer. Profiles are stored encrypted

The plugin is supported for Win7, 8, 10 and Office Excel 2010
Examples of use:
Floating chart.
For cyclic loading of the last n database items in the cloud into the table area in Excel, which serves as a data source for the chart.

PivotTable, Similar to the graph, when cyclically loading the last n items into the table area in Excel, which is the data source for PivotTables, we receive automatically updated analytical data.
When writing data from an Excel sheet upside down to the cloud, this data can be automatically transferred to n predefined Foxtrots, and thus a single entry can be used to set, for example, new control parameters.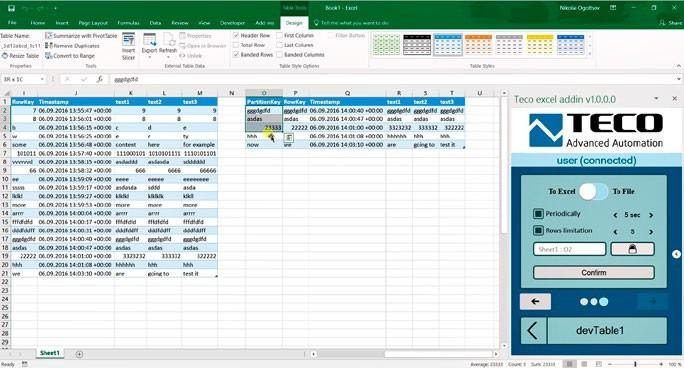 Fig. Teco Excel Client allows you to automatically synchronize n one sheet of data from multiple databases stored in the Microsoft Azure cloud at once.