C-RC-0005R is a hotel wall controller with capacitive buttons designed to set the temperature and ventilation in the room, wake-up request, cleaning and DND (do not disturb). Allows measurement of temperature, humidity and lighting intensity in the room, connection of 2 universal AI / DI inputs. The glass keyboard is backlit and the intensity can be continuously adjusted.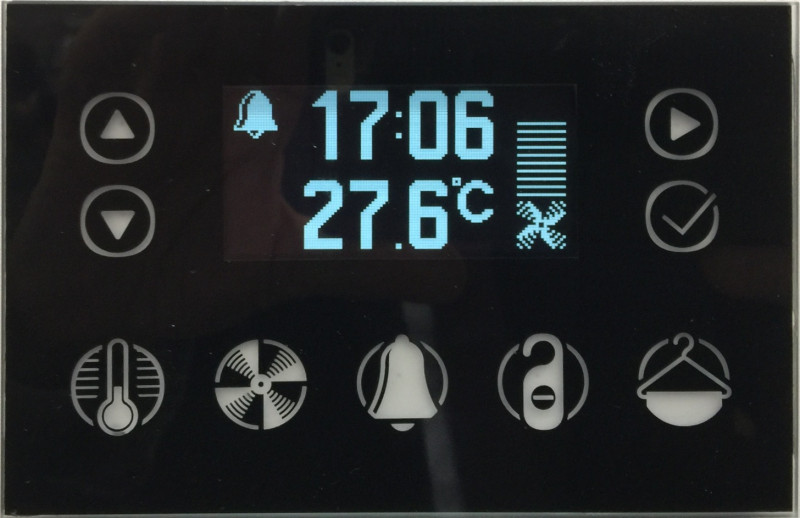 Fig. 1 Module C-RC-0005R
Module control
The initial screen of the module shows Time(5), Temperature (6), Ventilation settings (4), Alarm request indication (1), Do not disturb (2) and Cleaning (3).
Fig. 2 Screen description
Alarm setting and desired temperature
Pressing the ③ button flashes the alarm time, using the ⑥ and ⑦ buttons the value is edited, using the ⑧ button toggles between editing the hours and minutes, the change is confirmed by pressing the ⑨ button.
The same applies when setting the desired temperature.
Ventilation settings
Pressing the button ② flashes the symbol 4 in Fig. 4, use the ⑥ and ⑦ buttons to set the intensity 0 - 10, ie 0 - 100% in steps of 10%. Press the ⑨ button to end editing.
Cleaning and Do Not Disturb Requirement (DND)
Press the ⑤ and ④ buttons to set the appropriate requirement.
The module is controlled by 9 capacitive buttons (Table 2), for which short and long presses are detected. The long press delay is adjustable in the module initialization as well as the audible response to the press. The buttons are further marked ① - ⑨ in the documentation.
Tab. 2 Display Button Functions