Module and driver for Foxtrot-KNX integration, KNX bus power supply.
At the beginning of 2018, the company Teco a.s. accepted into the Czech national group KNX as an integrator.
In fact, it has been fulfilling this role for several years by integrating its centralized Tecomat Foxtrot PLC with the world of distributed KNX via the Weinzierl BAOS module. A communication driver is started for it on the Foxtrot, which automatically transmits the states of all KNX sensors and actuators to / from Foxtrot variables in the background.
At the beginning of this year, we significantly innovated and accelerated the driver itself, which is part of the Foxtrot application program as needed. The driver / function block is called KNXbin and is used to transfer data in binary form. It can be replaced by the original function block without any further modifications to the application program.
The innovation of the connection with KNX is further enhanced by the introduction of the new Weinzierl BAOS 774 module into our sales range. This module is half and now occupies one standard module on a DIN rail. The Ethernet port is routed at the bottom to the space of the other cables, the KNX bus remains routed at the top. The third novelty in the sales range is a specialized power supply for KNX networks from the company Meanwell, size 3 modules per DIN rail. At this size, the KNX supplies the bus with up to 640 mA. It is now possible to create a very compact core around Foxtrot, which can provide an existing installation of a KNX server service, full Internet connectivity with a freely programmable graphical web interface, logging services or add freely programmable functions not directly found in KNX modules. On the contrary, for Foxtrot it is a gateway through which it is possible to connect any element from the world of KNX hat the end customer wants, for example due to the design of interior controls, which are only available in the KNX variant.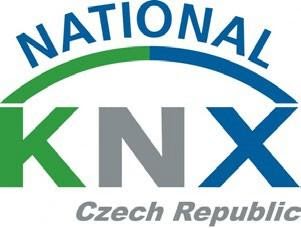 Fig. The BAOS-774 module has the same data point transmission capacity as the previous model, but occupies only 1 module in the switchboard.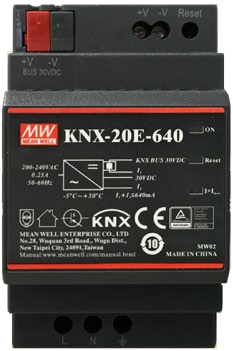 Fig. The KNX-20E-640 power supply module supplies up to 640mA to the KNX network. The full extension of the basic Foxtrot module by the KNX network will thus take up a total of 4 modules in the switchboard.