A module on the CIB bus C-1W-4000M now available for connecting 1-wire sensors.
For easy integration of single-purpose circuits from Dallas communicating via 1-Wire bus, the TUDS-40 MOD unit supplied by Firvena is designed, which independently processes communication from DALLAS sensors on its two 1-Wire data lines and further transmits information to Foxtrot system via standard communication interface. RS-485 with MODBUS RTU protocol. There is a library for the Mosaic environment, which allows easy installation and operation of connected sensors. Detailed information on using the unit, its configuration, support for the Foxtrot system and information on peripherals can be found at www.modbusto1wire.cz.
It can operate up to 20 sensors (40 in total) on each of the 1-Wire lines.
For simple and easy reading / deleting of individual addresses of temperature sensors, the unit is equipped with a two-digit LED display and control buttons. Sensor programming can also be used on a PC with an RS-485 converter.
Signaling LEDs on the front panel indicate the power supply of the device and the presence of a temperature sensor for each line separately.
1-Wire bus is easy to install. We recommend using a Cat 5e, Cat 6 or Cat 7 type twisted shielded (FTP) cable to route the cabling. It is advisable to use terminal boards that contain line balancing circuits (the line is resistant to line interference) and a disconnecting jumper for easy connection. programming of sensors into the converter.
For reliable operation of the TUDS-40-MOD device, we recommend using the manufacturer's proven temperature sensors, which contain a connectable terminal block with electrical circuits, ensuring protection and balance of the line. The DALLAS temperature sensor has its code set by the manufacturer, on the basis of which it communicates with the TUDS-40-MOD unit.
Basic parameters of the TUDS-40 MOD module
| | |
| --- | --- |
| Power voltage | 24 VAC/DC ±10 % |
| own equipment collection | 2 W |
| indication | yes, LED display |
| System interface | RS-485 |
| protocol | MODBUS RTU, slave, supported functions 03 |
| communication speed | optional 9,6 kBd, 19,2 kBd, 38,4 kBd, 76,8 kBd |
| address | 0 ÷ 247 |
| parity | no |
| stopbit | 2 (the device also responds to one stop bit) |
| galvanic isolation from power supply | yes |
| iCommunication to sensors | typ 1-Wire (DALLAS) |
| number of temperature sensors on one bus | 20 |
| number of buses (lines) | 2 |
| galvanic isolation from power supply | yes |
| indication of the status of buses (lines) | yes, LED |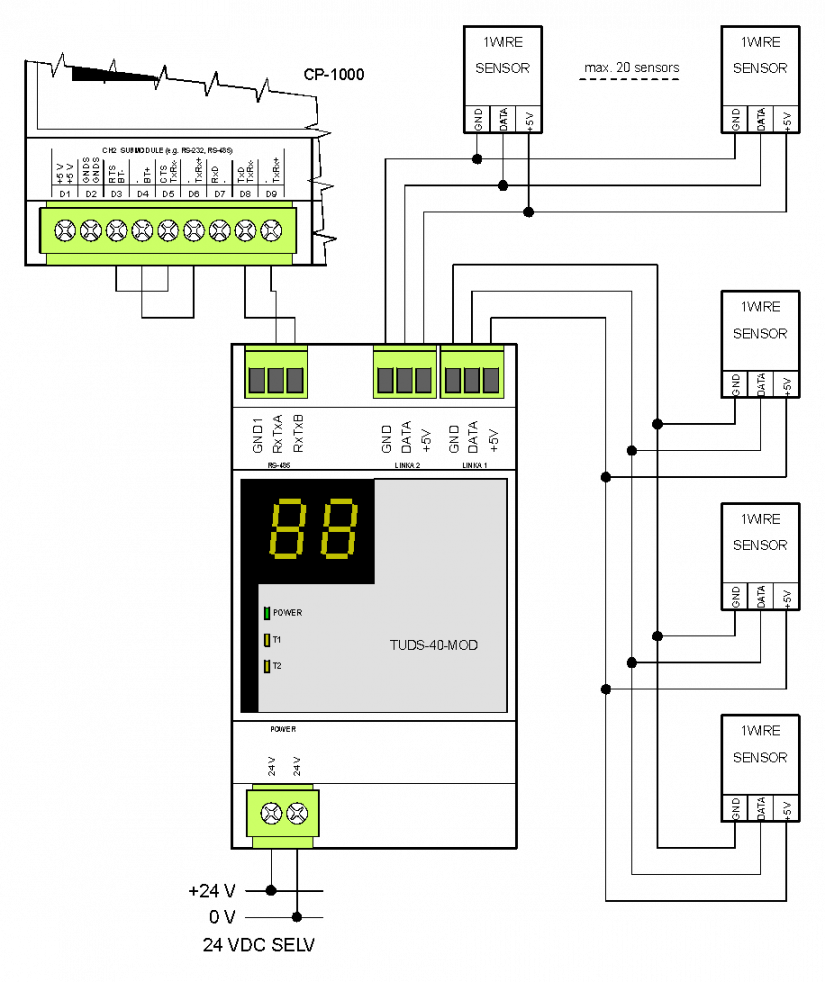 Fig. 1 Basic example of connecting the TUDS-40 MOD unit
Notes:
Each 1wire bus (Line 1, Line 2) can have only 20 sensors connected, the connection must be a strict line without taps (there are taps in the diagram only to show the connection).
The maximum length of each line is about 300 m.
Recommended FTP shielded cable.
The polarity of the 24 VDC supply voltage is arbitrary, the module can also be supplied from a 24 VAC source.