The OS-0425 module is designed to control up to 16 loads of 24 ÷ 230 V DC / 0.5 A. The outputs are realized by semiconductor switches. The module is equipped with a fixed terminal block with spring contacts. It is an external output module intended for connection to the output binary modules of the control system (eg connection to the OS-7410, OS-7411 and IS-7510 modules of the TC700 system). Each output is indicated by a light-emitting diode. The output switching circuits are protected by an RC element.
The power consumption of the module is max. 7 W and it is necessary (to calculate the consumption from the 24 V DC source) to add the power consumption of the output circuits of the connected control module (eg the power consumption of the OS-7411 module output circuits is max. 0.6 W for one connected external module ( 16 outputs)). For the given example ½ OS-7411 + OS-0425, the power consumption from the 24 V DC source is 7.6 W.
Max. switching current depending on the ambient temperature of the module: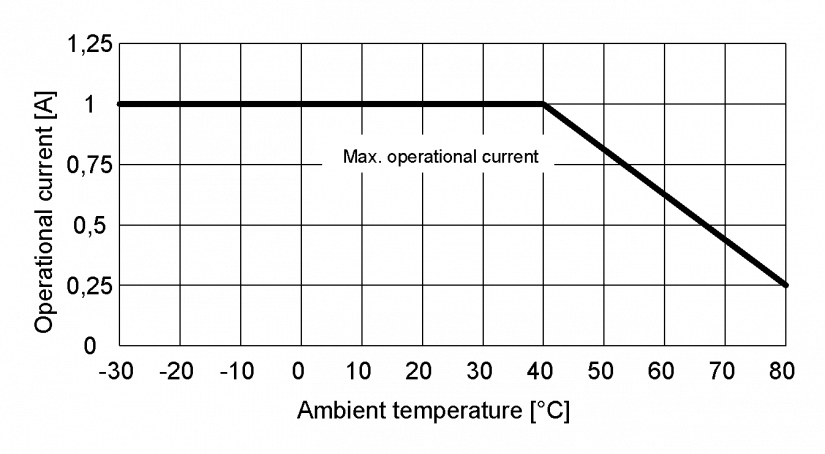 The module is equipped with fixed terminal blocks with spring contacts and a removable R connector for connecting the control system (in the case of using a shielded connection cable to the control system, the shield terminal is connected to the SHIELD faston connector). The connection of the connector is shown in Fig. 11.3.8.1.

Fig.11.3.8.1 Connection of the OS-0425 module connector
DOx output terminal output x
+VDx common positive terminal of power supply of output circuits
COMx negative terminal for powering the module's switched loads (only distributed on the terminal board for easier direct connection of loads)
+ 24 V positive terminal for connecting the power supply of the internal circuits of the connected control system module (eg OS-7411)
0 V negative terminal for connecting the power supply of internal circuits
connected control system module (eg OS-7411)

terminal for connection to the main protective ground of the switchboard (conductor with a cross-section of at least 2.5 mm2). Necessary for the function of protection and shielding of the module cable. EXAMPLE OF MODULE CONNECTION: