Meteo
29.02.2020 17:24
04.03.2020 17:52
The weather station (anemometer) GIOM3000 is intended for measuring the primary variables:
The speed and direction of wind, humidity, temperature, pressure and the derived values: Barometric altitude, relative pressure QNH/QFF, Beaufort, wind chill, saturated vapour pressure, absolute humidity g/m3 and g/kg, the dew point.
The Foxtrot system provides support for integrating data from the weather station and its subsequent use for control, monitoring and display (the Foxtrot webserver, etc.).
The weather station is equipped with the ETHERNET 10M interface with the power supply POE, so it can be connected
directly into the SWITCH, which supports POE, provided the supply voltage does not exceed 30 VDC.
Power supply can also be provided by the "POE Splitter" module with a network adapter; the POE Splitter combines a standard ETHERNET with powering towards the weather station. Then the weather station is powered by an power grid adapter from a regular mains plug and connected by a standard UTP cable to the ETHERNET installation.
| | |
| --- | --- |
| Dimensions | 250 x 277.6 x 77.9 mm |
| Power supply | 12 V/60 mA POE |
| Operating temperature | -30 to +60 °C |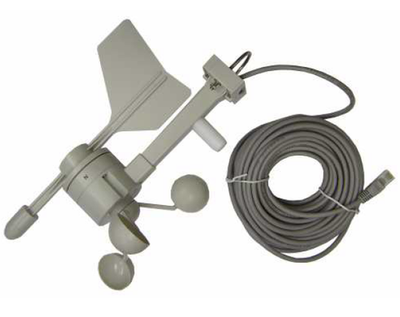 Fig. 1. The weather station GIOM3000
Notes:
The weather station is installed on a mast or a similar vertical structure (a clamping sleeve is included) or on a wall.

The weather station is equipped with a cable terminated with a standard RJ connector; the length of the cable is approx. 7m.

It is recommended to install the DTB4/100M 5cat/48V surge protection to provide protection against overvoltage. For more information on the DTB 4/100M 5cat/48V protection, wiring and installation principles, see the Chapter on Surge protection.